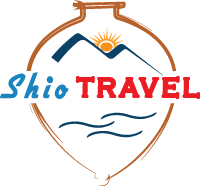 Welcome to the website of travel company "Shio Travel"!
Our most important principle - to treat each client as to the most dear friend. For each of you we have a journey for the soul.
At the heart of our work is the individual approach to each customer, price elasticity and responsible approach to our business. We will pay You as much attention as needed, and we will surely select the tour of your dream!
The main pride of our company is a family wine company "Shio`s Cellar" which for more than a century serves traditional Georgian wine-making so we are happy to offer you exclusive prices on wine tours.
Our company offers:
- Individual and group tours across all Georgia
- A transfer from/to the airport
- Professional guides
- Autopark with professional drivers
- Reservation of hotels with a guarantee of the best price
Everything that we do we do for your high-quality and safe rest.
We love our business!